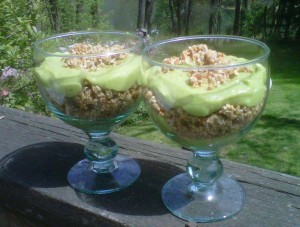 Do you ever feel like you are practically the only one facing some real challenges that don't seem to affect many others? When I think of difficult limits from our environment, the line
"it was bye-bye for Shanghai – I'm even allergic to rice"
from Doris Day's old song comes to mind. Whether you suffer from allergies or not, there are lessons to be learned about finding creative solutions within limits from JD Simone as she discusses her new book: Allergy Safe Cuisine; Cooking Without the Top 8 Food Allergens, Plus Corn, Gluten and MSG Like exit polls before memories fade, a great time to see the inside of the creative process is to ask people immediately after they complete a work. While often creativity is thought to be inspired by infinite possibilities, Simone's inventiveness came through experimenting within strict limits.
What inspired you to write this book?
I have several family members with severe food allergies. The summer before last was a perfect storm of eating disasters and that experience spurred me on to write this cookbook. The whole family went away on vacation together and, no matter what we made for food, there was always somebody who couldn't eat it. Compound that with the fact that there were so many people in one kitchen that keeping "safe" food for one person separated from the "safe" food for the other was nearly impossible, especially with a houseful of kids running around. The final straw was when we had a birthday party and one of my granddaughters could not eat the birthday cake. Can you imagine being a child, and having never eaten a single slice of birthday cake? Normally she takes it well, but her tears that time did me in. I decided that from now on, any food I make would be safe for everyone to enjoy. What is your favorite recipe? Lime Parfait. This was one of my own inventions. It tastes surprisingly like custard, is very easy to make, and is very decorative. Great to serve for company! How did you come up with the recipes you used?
I adapted some recipes, and invented others. Since life is complicated enough with multiple food allergies, I decided that every single one of my recipes would be free of the 8 major food allergens, plus corn, gluten and MSG. For people with multiple food allergies, flavorful, mixed dishes and seasonings are usually off limits. That was why I spent a lot of time on spice mixes, dressings, gravies and sauces. My mock Worcestershire sauce took months of experimenting to come up with, but it was well worth the effort. I also included a wide variety of meals and deserts, from the most basic of dishes to a small handful of more complicated ones for adventurous cooks.
I've always been involved in something creative. Right now I'm illustrating "Mommy's First Picture Book: What Nobody Told You About Parenting," which should be done by mid-summer.
Have you ever found yourself with some real limits and a need to find solutions for yourself or your family? Like the situation that spurred the idea for this cookbook. Please pass this on to anyone you know with food allergies!