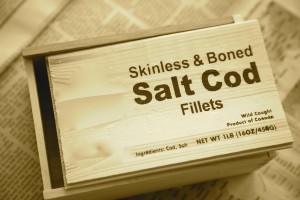 Do you ever get the feeling that you're making a mistake? As I write this, I've the nauseous feeling something is wrong and this morning I can smell the mistake and it's coming from the kitchen. Like anyone going out on a limb to be creative who finds themselves in the midst of a potential error, I'm wondering if I should stop the madness or continue and see where it leads.
It all started earlier this week when I spotted an "out-of-the-ordinary fish" special while browsing the pages of my online grocery. Choosing fish over the internet has its risks but that didn't stop me from adding "Salt Cod" to my shopping cart. It was not as much my bravery and willingness to take a chance to explore possibilities as much as it was that I wasn't really paying enough attention.
The next day the fish was delivered in a plain marked pine box. Before even sliding the lid to exhume the contents, I could smell the "aroma." It reminded me of strolls through the dried food markets in Hong Kong or like the beach at low tide on a hot day. I've learned that to some, the smell of dried fish is like the freshness of baked bread; however, I've not acquired this sense and beginning to wonder if even a splash of wine or a squeeze of lime could provide enough cover. The instructions say to rehydrate the fish in a series of water baths for a day and some Google searching revealed testimonials predicting a full transformation into something worthwhile and wonderful.
At the moment, it's been soaking for 12 hours and the smell is …a little less fishy. Halfway through when trying something creative, when your hopes and your visions aren't materializing, do you ask yourself: "What am I doing?" Should I go on?? Is it worth my effort? And will this one-pot meal disappoint my hungry audience and lead to the inevitable pepperoni pizza?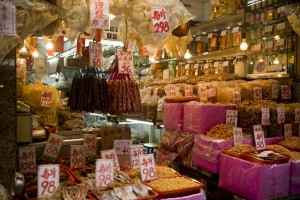 At times, our plowing through the chaos and uncertainty is rewarded with an incredible final product. Other times, simply giving up can provide freedom, like playing with the food you no longer intend to eat, or splashing and dripping paint over a landscape you don't expect to complete – when you have nothing to lose – you have the freedom to start to really experiment.
Is it Portuguese Fish stew or New York pizza tonight? when you get the feeling things are going wrong, what do you do?