Have you ever discovered one last piece of candy in a bag that you thought was empty? Or found a five dollar bill in your jacket pocket left over from last winter? In a way this happened to me when thinking I was completely done with my book CREATIVE YOU. The final manuscript is submitted, the Facebook page is up and I even noticed it's already listed for preorder on Amazon when the publisher surprised me by asking for 5 more words to balance out a page. If you were given one last chance to write or speak about something you cared about what would you say?
While first impressions are very powerful, so are our last thoughts. Do you ever sense something is going to be the last time? I still remember 16 years ago: knowing the moving van would be coming in the morning and instead of packing, I was standing in the dark, squinting at a stopwatch, scooping my test strip from the developer and submerging it into stop bath. I wanted to get the exposure right since I knew this was going to be one of the last black & white prints I would ever make before boxing up my enlarger and trays.
Sometimes we see the end approaching like the final episodes of a sitcom or the last sip of wine and other times we are taken by surprise – as we unknowingly have a last casual conversation with a friend before they unexpectedly disappear from our lives. Foreseen or not, ends can produce strong memories and provoke powerful inspirations.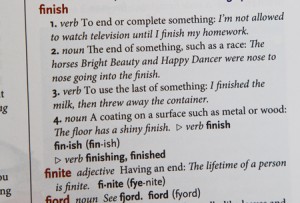 Our final impressions are often the cumulative of our experiences – like learning just the right place to watch the last sunset while on an island vacation or just the right meal to order in a favorite restaurant that is going to close. When things end we are left with our memories – and for some people memories become sources for inspirations.
They did for Edvard Munch, most know for "The Scream" who was inspired by his intense childhood memories. He said "I don't paint what I see but what I saw." While, there are many ways to be creative – reminiscing isn't what inspires everyone. Picasso said "All I have ever made was made for the present and with the hope that it will always remain in the present." And he continued: "I have done it without thinking of the past or of the future."
When you are aware a chapter will inevitably end, do you try to preserve your memories? What do you keep? And how do you plan to use them for future inspiration? Or do you prefer to let go of the past and gain your inspirations from what is happening now? What will you do with the very last piece of candy?